Fundraiser
💥2023 KAPLOWEY Palooza💥
August 12th, 2023  |   11am-2pm  |   Kiwanis Park, Field 7, Fayetteville, GA
Participants will be placed in one of 4 pod teams (Red, Blue, Black or Green) with other members to compete in a WILD, NO HOLD-BARRED game that combines 🚩Capture the Flag and Dodgeball, but with WASHABLE color-filled water balloons.
Round 1 Game Starts at 11:30am | Round 2 Game Starts at 12:30/1pm
The Fayette CARE Clinic is a 501(c)3 organization – ALL ticket sales & sponsorships are tax deductible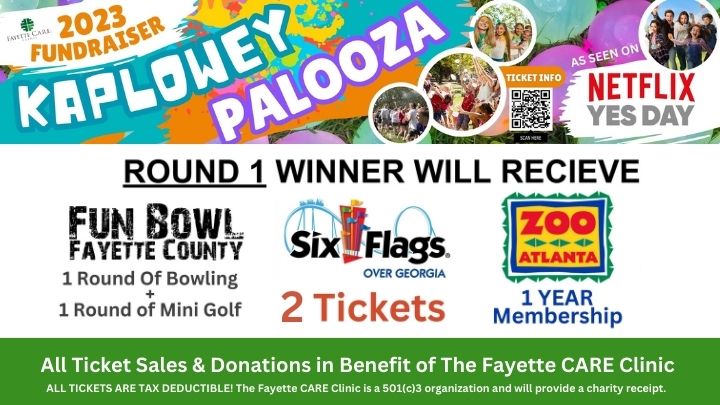 SPONSORSHIPS
The Fayette CARE Clinic is a 501(c)3 organization – ALL sponsorships are tax deductible
As an event sponsor, you will be promoted on Fayette CARE Clinic's social media and event advertising!
POD Flag Sponsors    |   SOLD OUT   | $500/each
Sponsor a pod and get your name on the flag! 0 Available | 4 Sold
Blue Flag: Walmart Health ; Red Flag: Stirling Promotions ; Black Flag: Your Pie, Peachtree City; Green Flag: Hudson Barber Dental
Yard Games   |   $200/each ​
A yard sign will be next to each yard game that says "sponsored by" with a QR code to your info
Sponsors: Giant Jenga: designporium, Cornhole 1: El Reposo Mexican, Giant Tik Tac Toe: Lettered By Lisa
💥KAPLOWEY  "Barricades"  | $150/Side
These are spread out throughout the play arena. You can sponsor 1 side or both sides of each barricade or purchase as many sides as you'd like!