FREQUENTLY ASKED QUESTIONS

WHAT ARE FAYETTE CARE CLINIC'S ELIGIBILTY REQUIREMENTS?
All patients must:
Individual must be a Fayette County resident (documentation required). P.O. Box does not demonstrate residency.
Over 18 years of age
Uninsured/Underinsured for the services they are seeking (e.g. if individual does not have Medicare Part B, they are eligible for services at FCC, if individual does not have dental insurance they may be seen for those services).
Provide a valid and current photo I.D. with current address. (Valid state-issued driver's license, State ID Card, Passport, Military ID, School Picture ID, Visa or Resident Alien Card. Retail/Club memberships not accepted)
 Proof of Residency: Utility bill (power, gas water) in patient's name or their spouse, Lease contract or rent receipt showing current address, Food stamp letter or other government issued mail, voter's registration card, or other acceptable business documents such as mortgage statements, IRS, check stubs, bank statements, cable bill, or cell bill showing your address. -For patients living with someone else, a Notarized Affidavit is required from the homeowner. Homeowner must state that the patient lives with them and provide information about financial support (if any) the patient receives from them. A proof of residency document showing the name and address of the homeowner is also required. Proof of Residency documents should not be more than 30 days old.
Income must be 200% or below the Federal Poverty Guidelines. (See below)
Provide proof of household income, plus any unearned income, which may include: Pay Stubs (2 is paid 2 times per month, 4 if paid weekly) This includes Social Security (Disability, Retirement, etc.), Unemployment, Worker's Compensation, and Alimony
Have a "No Wage Letter" for yourself  (and your spouse, if applicable) from the Georgia Department of Labor if not receiving wages. If you are unable to get a  no-wage letter due to Covid-19, you can complete a Wage Inquiry Waiver.
For questions or additional information about appointments, please call 770-719-4620 during normal business hours
WHAT ARE 200% OR BELOW GUIDELINES?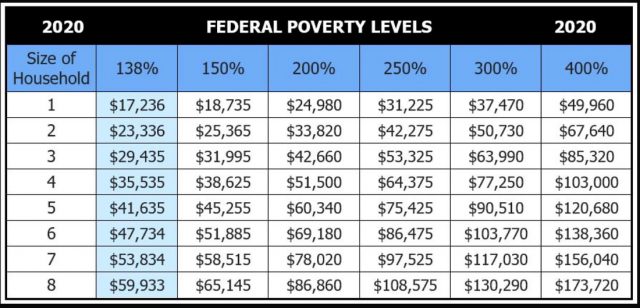 WHAT IS YOUR CANCELATION & NO SHOW POLICY?
If you have an appointment at this clinic or one of our associates, you must call 24 hours in advance to cancel the scheduled appointment and, if you do not call, this is considered a No Show.
Patients are allowed 2 No Show appointments each calendar year.  The third No Show in a calendar year, will result in an automatic dismissed from the clinic.  
Please help us serve as many patients as we can by avoiding No Shows.
SHOW ME YOUR NOTICE OF PRIVACY PRACTICES