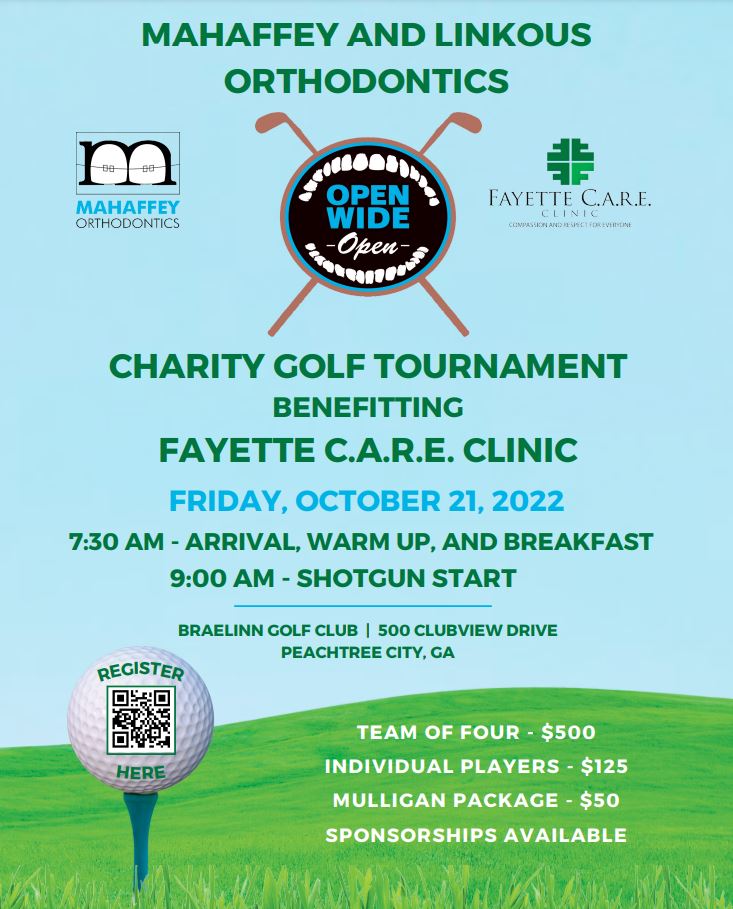 The Mahaffey and Linkous Orthodontics Open Wide
​Golf Tournament
​
The 2022 Mahaffey and Linkous Open Wide Open Golf Tournament returns to its one-day scramble format golf tournament. Join us for this fun-filled day of golf, prizes, giveaways, catered breakfast, and tournament wrap-up following a delicious lunch.


​
If you would like to pay by check, simply email your players names to info@fayettecareclinic.com
and mail your check to:
Fayette C.A.R.E. Clinic
1260 Hwy 54W Suite 101
Fayetteville, GA 30214
Questions: Call Geneva at 770-855-4641 or email: info@fayettecareclinic.com
Fayette C.A.R.E. Clinic Thanks You for Your Support and
​C.A.R.E. for our Community!
---
Our Appreciation to Our Growing list of Sponsors:
PLEASE CONSIDER SPONSORSHIP
PLATINUM $5000 • GOLD $4000 • SILVER $2500 • BRONZE $1500